While we can't seem to stop ourselves from scrolling through innumerable gorgeous cinematography on media platforms and streaming services, the hunt for the most visually pleasing videos continues to be a popular pastime. Here are free photo and video editing software tools for influencers and marketers.
As a result, the hottest influencers and marketers are constantly striving to generate content that shines brighter than the rest of the world and blooms the fruits of their vision.
So, here are some handy software tools that can help you promote your marketing content more effectively and easily to build your brand.
Check out these 11 leading photo and video editing platforms to help you flourish with your blogs, social media, marketing, and everything else you want to do on the world wide web.
1. Canva
Canva, the ever-expanding platform for digital creatives, appears to be everyone's favorite due to its extensive features and simple tools. This software caters to everyone from Instagram influencers to YouTube vloggers with no effort. It's also compatible with your phone because it's an internet service, however, you'll have to download a free app to use it.
The interface is simple to use, and it aids in the creation of videos in the same way that PowerPoint does. It also includes a large royalty-free image and video library, as well as numerous tutorials and templates, so it can be used across many platforms. Although many of its attractive features are accessible for a monthly fee ranging from 9.95 US dollars for single users to 30 US dollars for large businesses, it considers itself budget-friendly.
2. Lumen5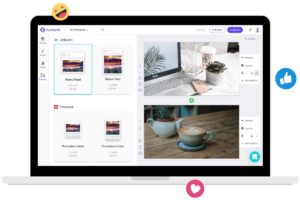 With the lumen5 platform, entrepreneurship is now all about you. Its simple parameters and excellent automatic functions result in a unique and entertaining video editing service. It's also a Web-based video processing service with a large library of royalty-free media, as well as outstanding automatic functions and encouraging beta features.
Although the interface's only drawback is the absence of audio and image editing tools, it's still a great platform for quickly editing videos. Of course, the free version has limits; exports are limited to 720p (the Premium and Business levels export to 1080p), but you still get access to the Standard Library (where Lumen5 gets the majority of its images and photographs) and popular themes. The Getty picture collection is also available to paid users.
3. InVideo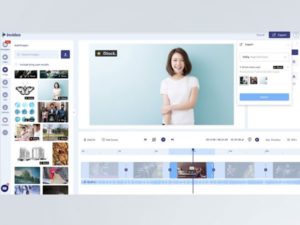 InVideo is a fantastic video marketing technique that enables you to access a range of entertaining clips. You can create videos by going to the official website and using blank or ready-made templates. Furthermore, there are no technical skills required to create videos utilizing this platform. There is a function in this platform that will help you convert an article into a clip comparable to the one in Lumen5. In the InVideo versus Lumen5 battle, however, InVideo has more functions and graphic components.
Furthermore, comparable to Canva, there are framework pre-made proportions to produce videos for particular web placements like YouTube landscapes, Facebook story, Facebook Newsfeed, Instagram Story, LinkedIn Newsfeed, and so on.
The Business plan has a monthly maximum of 60 exports and 300 Premium Videos. Unlimited, on the other hand, is sufficient. Users are permitted to use as many exports and movies as they choose. The Unlimited package costs $60 per month if paid monthly and $30 per month if paid annually. If you subscribe monthly, the Business plan is $20 per month, and if you subscribe annually, it costs $10.
4. Shotcut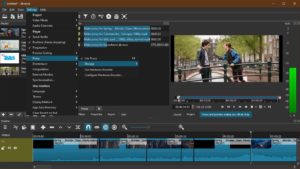 Shotcut video editing software for Windows is among the most popular YouTubers and is an entirely composed program that allows users to edit their videos. It is free and has all of the functionality of any editing program.
It's also intuitive and, for the most part, has a simple UI. Transitions, cuts, keyframing, and other basic shifts and effects may be included along with titles, effects, and other elements like with just a few taps you can use many components like dragging and dropping that makes it simple to use.
What makes it even more different is that, contrary to the other free packages, Shotcut also works with computers that are not that powerful, and it is one of the best free software that is available.
5. Adobe Premiere Pro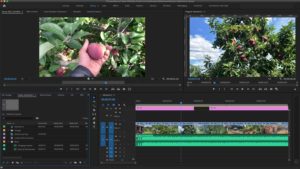 The premiere pro will analyze your video and reframe your images, attempting to retain faces or both hands in the frame as much as practicable. The outcomes, as always, will be determined by how well their algorithms comprehend your plot. If anything goes awry, you can manually adjust the frames by pinpointing the automatic keyframes and replace them with something which fits brilliantly.
Without modifying any equipment, all of your resources can be linked between projects within the Production. "Cross Project Referencing" is the term for this. Not only will this spare you effort, but it would also shrink the size of your project files, rendering items easier to manage. This application may be used for anything from YouTube videos to feature films. Indeed, it's even more significant since it is part of the Creative Cloud ecosystem, which lets you connect to a boatload of other compatible products like After Effects for compositing and Audition for audio processing.
6. iMovie
This software is based on its reputation rather than its merits. If you want to be more creative, iMovie lets you apply 30 different video filters and 20 different audio filters to your clips – but only one of each per clip. Your video's speed can also be modified in iMove. iMovie, despite its shortcomings, has almost everything you need to make a short video. The only drawback is that the software is only compatible with macOS and Apple devices.
With a streamlined yet adaptable editing chronology and a refined variety of effects, teaser templates assist you to create funky videos with no editing expertise. And if you are more proficient with video editing, then iMovie is the preferred place to choose when undertaking a project, but you can't switch between project types. Other than that, it's a great deal.
7. OpenShot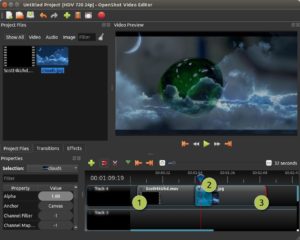 OpenShot is a fantastic video editor. One of its finest advantages is its ability to segregate audio from clip in an imported and loaded clip. Given that it is free, it performs admirably and compares competitively with similar apps, including premium ones. Its general performance is good, however, the processor you use seems to contribute. We give this one a heartfelt thumbs up as well!
Additionally, it showcases the whole video creation process on a tiny platform and allows for fast access to multiple streams. OpenShot features a unique teaser panel that enables you to see what you're focusing on. The system allows us to synchronize clips on every record to create continuous videos, making it an ideal choice!
8. Lightworks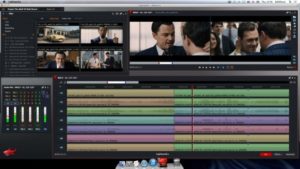 Lightworks is a relatively robust professional video editing software that comes with a slew of sophisticated phones that will make your footage flash. It's efficient and versatile, and after you've gotten assimilated to its distinctive methodology, you'll find it remarkably simple to use. It is perhaps the most comprehensive free video editor obtainable, modernizing cinematography by making expensive tools accessible to anyone.
It features ergonomic abilities and real-world effects, and it's also free to use at home. Grasping Lightworks' formidable framework will take some time, as you might anticipate. This isn't just a Windows Movie Maker successor; its competent roots are apparent in the UI, which incorporates jargon from the video production realm. This also features preloaded profiles that encourage you to seamlessly download your project in the right sequence for your detested video platform.
9. Blender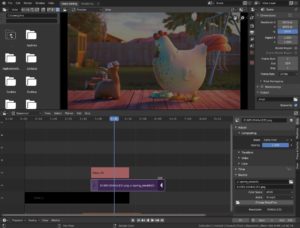 Responsive design is becoming extremely prevalent. People are dependent less on professional developers to get desired results and unleash their creative sides. They desire a modest video editor with a plethora of different features for this aim. And if that editor transpires to be free, it's the perfect accessory. Naturally, Blender video editor is at the top of the agenda when it comes to transparent, free, and specialized video editing software.
It's an entirely composed 3D animation toolkit with modeling, rendering, motion detection, as well as other functionalities. Blender, as a multimedia editor, provides for a myriad of technologies such as live preview, transitions, tempo management, adjustment layers, effects, histogram projections, and so on. It provides synchronizing, waveforms visualization, scrubbing, and audio blending capabilities in the audio portion. It features 32 spaces for audio tracks, video clips, and photos to be added.
10. Hitfilm Express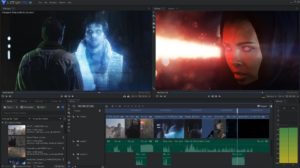 HitFilm Express has an unsurpassed budget and a model performance that makes you wonder whether you should employ any other freemium web app. The additional best tool for your video operations is an appealing Premium quality system for free with a Wonderful collection of distance learning and Frequent updates, as well as incredibly expandable (upon a subscription). Its High hardware requirements and steep learning curve have been the only minimal interface concerns one might encounter.
Comprehensive cutting tools, sound, and video processors, layered and disguising, blending tools, green screen keying, and 360 video capabilities are just a few of its bedrock defining characteristics. The UI is comparable to other similar systems, except for a component for exportable curation and a timeline for organizing it. Of course, certain tools are in various places, but this isn't going to stymie your progression – as certainly not for prolonged.
11. VlogNow (VN)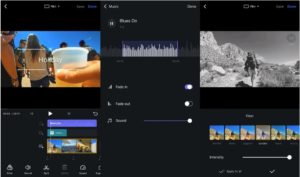 VN Video Editor, popularly abbreviated as "VN Video Editor Maker VlogNow," is a digital video weapon for modifying video content on your IOS or Android smartphone, tablet, or desktop computer. The service is free to employ with no watermarks or other prohibitions and is exceptionally beneficial for several video editing operations. It has numerous video and image guidance, a continuous draft save capability, a full-screen preview window, and the capacity to utilize your original files.
Text effects, subtitle effects, multiple font styles, and adjustable material length are some of the many possibilities available. Custom export settings, support for 4K and 60fps, and the ability to save and export low-resolution videos. It's also effortless to get prepared with, especially when it comes to rearranging and basic editing, specialized editing, that can be undertaken in just a few minutes.
Conclusion
Along with these top choices, Final Cut Pro X, Video Maker for Windows, Nero Video, Corel VideoStudio, Filmora from Wondershare, and Pinnacle Studio are all excellent alternatives to consider editing your creative content, but each has its own set of limitations.
Most systems require a lot of practice to get accustomed to therefore, endurance is vital when it comes to photo and video editing. As a result, it is essential to go through the instructions provided by these top platforms or by instructors to make your marketing projects run more smoothly. If you share screen recordings online, you can also use the listed tools or search for more alternatives.
However, if you develop talent in this field, you have plenty of career opportunities and you can find out more about these here:
Author Profile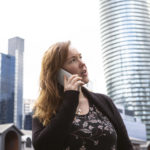 Blogger and Educator by Passion | Senior Online Media & PR Strategist at ClickDo Ltd. | Contributor to many Education, Business & Lifestyle Blogs in the United Kingdom & Germany | Summer Course Student at the London School of Journalism and Course Instructor at the SeekaHost University.