The market for the best gaming beds is growing very rapidly as youngsters are taking over the online and video gaming world.
Gamers want to be comfortable when gaming in front of their gaming screen and as gaming sessions can often last for hours, gaming beds should make gaming at home a pleasurable experience while turning a bedroom into a cool gaming zone.
Gaming beds also help to save space as they allow an extra desk and chair underneath the actual bed. They serve the purposes of both sleeping and gaming comfortably in one place.
The type of gaming bed an individual will choose will depend on the preference of the gamer, as some are console-only players, some prefer to play on their desktop or gaming laptop, and others do both.
We have therefore compiled a list of the 5 top-rated gaming beds suitable for different budgets gamers can get for that perfect, comfortable gaming experience day and night.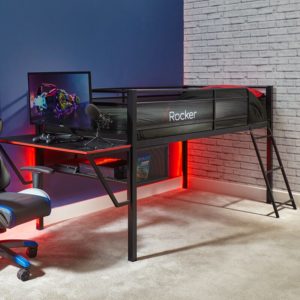 1. X Rocker Battle Den Gaming Bed High Sleeper Bed Bunk – £263.99
This high sleeper bed is made for heavy-duty use for young gamers such as kids and teenagers. This gaming bed is very spacious and comfortable. The bed does not come with built-in shelves, but it does have a spacious under-bed capacity. It can hold a TV of up to 32 inches and it has a high shelf with a pothole to manage cables for storing consoles and displaying other accessories.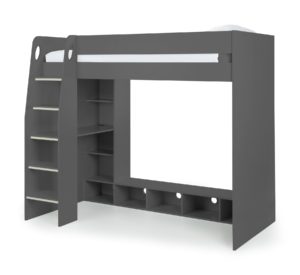 2. Galaxy Grey Wooden Gaming High Sleeper Bed Frame Gaming Bed – £719.00
For gamers with an interest in aesthetics, this high sleeper gaming bed offers a modern look and design. It is available in a grey lacquered finish, and you can also buy it in white. The bed is very strong and stable, but to set it up may take a few hours as it is no one-man job. The gaming bed will not come with a mattress but there is an option available to choose memory foam or pocket sprung mattress. You will not have to worry about your safety while sleeping because the bed comes with a secure border. This gaming bed can accommodate a television of about 65 inches. Shelves are also available with this bed running vertically and horizontally.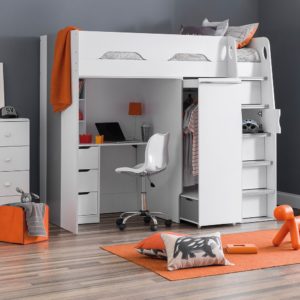 3. Julian Bowen Pegasus High Sleeper Gaming Bed – £595.00
The Pegasus High Sleeper Bed is the most functional bed for kids and teenagers who are interested in gaming. The bed will have a matt finish of white with silver-grey hues. The features of this gaming bed are incredibly useful. It comes with a pull-out wardrobe; it will also have internal storage that will help in maximizing the space available within the bed boundaries. The desk further features storage drawers and cable holes. The height is suitable for tall kids. Every step has a hidden and handy storage cupboard.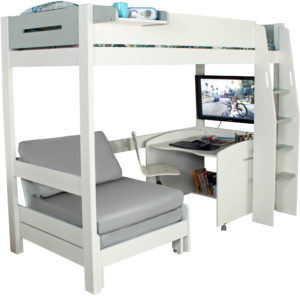 4. Urban Grey High Sleeper 1 Gaming Bed – £879.00
This gaming bed is more suitable for one gamer with a smaller single bedroom as it offers limited gaming space. Compared with the other gaming beds, this bed won't allow for friends to fit in the space provided. The gaming bed is made from solid pine and MDF, it has a ladder including handles and wide steps. There is a free-standing desk on castors that can be moved around very easily. The urban grey colour will be perfect if you are a subtle gamer who likes to play games alone in your single bedroom. This gaming bed is available in white and grey, white, and birch.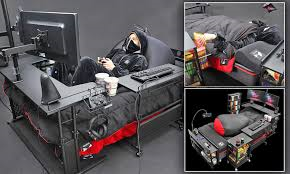 5. Bauhutte Japanese Gaming Bed – £470
This gaming bed is the dream bed for many gamers, and we all know that the Japanese are the masters of gaming. This bed comes with everything a gamer would need or want while playing video games. This gaming bed offers an adjustable arm can holder for holding a phone or other mobile devices above your head when you are lying down in a relaxed manner. There is room for an alarm clock so that you will not miss any important events. There is also a shelf for keeping your snacks and anything else you need during your gaming sessions. You may lay down in a relaxed manner while playing your games peacefully and you will not have to move for anything as everything will be within your reach including your headphones.
Make your Gaming Dreams come true
With the superb gaming beds listed here, you can turn your bedroom into a full-on gaming zone. Depending on the type of gamer you are you can select the bed that is most suitable for you and your budget. But if you're an avid gamer who perhaps also earns money from gaming as an influencer or YouTuber, you can surely make that investment for your ultimate gaming home office that will also impress your viewers on your channel or your gaming friends paying you a visit for a gaming session.
Author Profile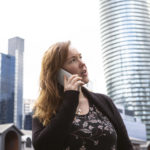 Blogger and Educator by Passion | Senior Online Media & PR Strategist at ClickDo Ltd. | Contributor to many Education, Business & Lifestyle Blogs in the United Kingdom & Germany | Summer Course Student at the London School of Journalism and Course Instructor at the SeekaHost University.