Virtual reality has failed to break into mainstream markets up to now, but sales are expected to spike by 2022 when the global market of VR and AR will be $209.2 billion. This amazing rise in sales suggests that the technology will be adopted in nearly everything, and one area where it could be particularly useful is in enhancing sports matches.
There are a few reasons why VR has yet to take over the world. At the moment, the technology is still quite expensive for the regular end user. This will change as newer generations of platforms like the Oculus Rift and HTC Vive are released, making the older models more affordable. Another factor is due to the current lack of content, with VR only sitting on the periphery now rather than permeating our everyday lives completely. This landscape will also alter as more developers seek ways to incorporate the technology in various industries.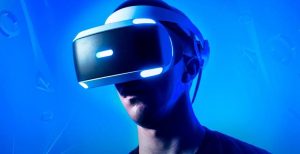 Source: VRFocus via Facebook 
While the main focus of VR has been in the gaming sector, there are other applications where it could be particularly useful. It has already been used to offer up virtual concert experiences for well-known bands such as AC/DC, and will almost certainly be used in the same way for sports events. There may soon be a time when everyone can watch a football match, for instance, as if they were sitting in a seat in the stadium on match day.
But this idea could be taken even further. There could soon be ways of actually viewing the game from the perspective of the players if they were to wear cameras on their shirts. Imagine putting yourself in the shoes of England batsman Joe Root as he faces an incoming screamer from Australia bowling ace Pat Cummings – currently one of the fastest bowlers in the world. Or how about viewing a football game from the perspective of Eden Hazard as he skilfully tiptoes around the opposition defenders to plant the ball in the back of the net for Chelsea. The Belgian is one of the hottest acts in the Premier League right now, with sites like MoPlay offering bettors their losing stake on a match result back if the winger scores. (Note to editor – they were offering this before the Chelsea v Man U match on the link page)
Sports viewing has come a long way in the last ten years as technology has been adopted in more ways. Cricket, in particular, has become an extremely interactive experience thanks to technological advancements. Viewers at home are now able to get an inside look at crucial decisions and decide whether an umpire's verdict was correct. This is thanks to things like Hawk-Eye, which tracks the trajectory of the ball to plot its most likely path, and the Snickometer, which analyses sound and video to determine whether the ball clipped the side of the bat. Football has been enhanced over the years with additional cameras picking up more of the action. One recent innovation is Goal-line technology, which shows whether a ball has crossed over the line.
Sports viewing has already become a highly immersive pastime, but virtual reality could be about to make it even better. When the new platform hits the mainstream, expect to see it used frequently for sports matches.
Author Profile
I'm an SEO Analyst at ClickDo Ltd & Expert at Building High Authority Links & Local Citations, Also, I help Business Owners in the UK by flooding more Leads to their Business by ranking their website organically and also by using paid campaigns like Google Ads/Facebook Ads.