Almost everyone can recall how popular DVDs or Digital Versatile Disks were. It is even more likely you have more than one DVD in your attic or basement. Indeed many people had fallen into the habit of renting the latest box office release on DVD to watch later in the comfort of their home. For many others nothing marked the beginning of the weekend like watching a horror flick with one's buddies on a Friday night. The DVD did have a favorite place in the hearts of many people and does arouse nostalgic memories of the late 90s and early 2000s.
The advent of high-speed internet which allowed for direct online streaming of videos officially marked the end of the brief but majestic reign of the DVD. The emergence of platforms offering the streaming of on-demand video content has definitely revolutionized entertainment. Nowadays anyone can watch a movie, documentary, animation and so forth streamed direct to their smartphone, laptop, desktop or other device capable of supporting an internet browser. This is why Netflix has become one of the most popular on-demand video streaming platforms today. By using the DVD ripper you can convert the DVD into your required file format.
Reasons for wanting to rip and convert a DVD movie
There are a number of reasons why you would prefer to watch a movie from a DVD after converting it to MP4 digital format. These reasons can include
You have come into the possession of a  large collection of classic movies on DVD and don't want to throw them away without watching them
You have not been able to find the original version of a classic movie from a streaming platform but have been able to get it on DVD
You have come upon an all-in-one DVD collection of some your favorite classic movies
You do not have a DVD player at home but your TV display can play movies via USB
You want to share DVD movie classics with your buddies via a social media platform
You want to experience the nostalgia of watching a movie with your buddies at work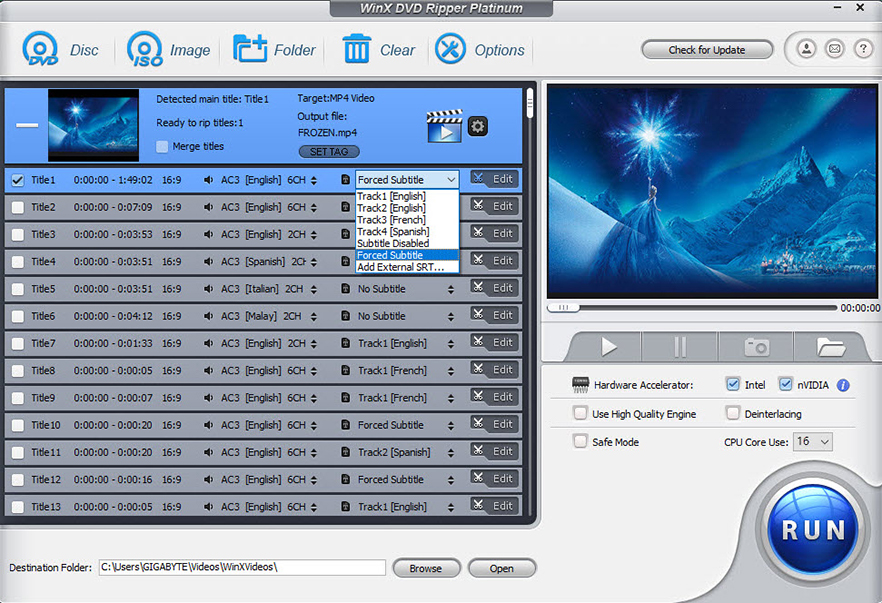 The number of possible reasons you might have for wanting to rip and convert a DVD movie to MP4 format are indeed limitless. To realize this task you will need the following
A desktop computer, laptop or other setups that has a drive to read the DVD
WinX DVD Ripper Platinum video converter.
Benefits of converting DVD to the MP4 digital format
There are a number of digital video formats that you can convert your DVD to. These formats include AVI, WMV, MKV, HEVC, DIVX and MOV. Below are some of the methods to convert the DVD to MP4 digital video and other formats. However the MP4 video format offers the following advantages over all the other formats
High Compression Rate
The MP4 video format offers a higher compression rate than all the other video formats. This means that the final MP4 video file obtained after a conversion will be a lot smaller that the file obtainable using the other formats. Hence you end up saving on the space dedicated to movie storage on your computer, laptop, smartphone, tablet or other device with video playback functionality.
Cross Platform Compatibility
The MP4 video format is compatible with all major operating systems including Windows, Mac, android and iOS. What this means is that you will be able to play your MP4 video file on a variety of devices seamlessly. This will include desktops and computers running either Windows or Mac OS, smartphones running iOS, Windows or android OS, as well as a plethora of other devices capable of video playback. Furthermore the MP4 video format is versatile across all screen sizes and ratios.
Video Integrity
The MP4 video format possesses high data integrity which means that MP4 files do not corrupt easily even after prolonged storage in a USB flash memory stick. It also means that MP4 files are not easily corrupted by the malware and other bugs that might invade your desktop, laptop, smartphone, tablet or other device.
Interactive Menus
A favorite feature of DVDs that is preserved in the final MP4 file obtained after conversion is the interactive menu. This means that while watching the converted MP4 video, you will have access to the following capabilities
You will be able to select amongst the chapters making up the movie. This feature is especially desirable for particularly long movies. It is also indispensable if you rip and convert a series on DVD where one season can be comprised of 10 or more individual episodes.
Ability to activate an English title and captions, a feature that would be indispensable if you were to rip and convert a foreign language film.
3D Capability
If you were to convert a 3D movie on DVD you need not worry about the loss of the 3D aspect of the movie. The MP4 video file that you obtain will possess the clarity and aspect features as seen on the original 3D movie.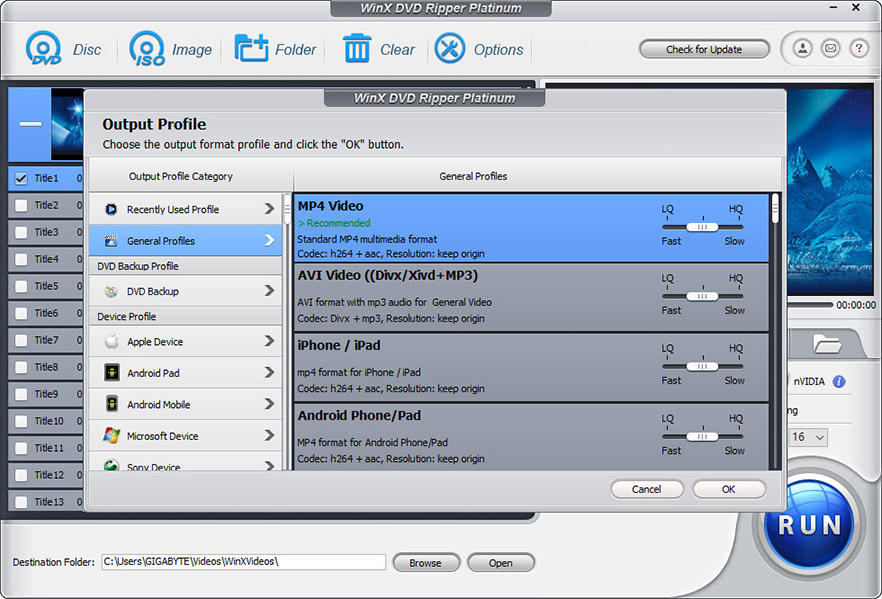 Using the WinX DVD Ripper Platinum
To use of the WinX DVD Ripper Platinum to convert your DVD to MP4 format simply follow the simple steps below
Download the WinX DVD Ripper Platinum for free at www.winxdvd.com website
Install the program onto your desktop computer or laptop
Open the WinX DVD Ripper Platinum by clicking on the short-cut icon on your computer's desktop
Insert the DVD you want to rip video from into the DVD drive on your computer or laptop
Select the particular drive with your target DVD using the WinX file browser
Select the MP4 file format as the video output format from the dropdown list presented
Finally click the Rip icon on the UI of the WinX DVD ripper. The program will immediately start to extract the video and will display the progress at each stage. Within a few minutes you will have your ripped and converted MP4 video file.
Once you obtain your MP4 video file you can then transfer it to any of your other devices for personal use or to be shared among friends. The WinX DVD Ripper Platinum will make it easy for you to convert your DVDs into the highly compact MP4 video format.
Author Profile
Passionate Blogger | Interested in writing about the latest technologies, business strategies | Contributor to many premium UK Blogs
Latest entries