Why use dedicated DVD burning software when Wondershare UniConverter is there to get the task done along with several other features. So if you have videos in different formats that you want to burn to a DVD in a simple manner, install Wondershare UniConverter on your Windows or Mac system. Other useful features that make Wondershare as an excellent video-toolbox include video conversion, video editing, video download, recording, transfer, and others.  An overview of the software features is presented in an interesting manner at the link: https://youtu.be/h4QPxO7rvLI
Burn videos to DVD using Wondershare UniConverter:
Though Wondershare UniConverter is majorly used for video conversion, DVD burning is one of the decent supported features of the software. I
Burn DVD for playback and backup
If you have a collection of your favorite videos that you want to play on TV sets or create a physical backup for the DVD burning is required. Using the software you can burn your HD, FHD, as well as iPhone videos to DVD and Blu-ray discs. With a self-explanatory and simple to use interface the disc can be burned without having any professional DVD burning knowledge.
Additionally, if you do not have a physical disc during the process, you can burn the videos to an ISO file or a DVD folder for later burning.
Support to all popular formats
Wondershare UniConverter supports all major and popularly used formats like MOV, AVI, MP4, and others for burning them to a DVD, Blu-ray, ISO or a DVD folder. So while using the software, you will not have to worry about the format compatibility.
Create interesting DVDs using free DVD templates
To assist you in creating a professional-looking disc, the tool comes packed with an array of free DVD menu templates having different themes. Depending on your video content, you can choose the template and the theme of your DVD. To further enhance the overall looks of your disc, the option for adding a stylish background image or a music file from the local hard drive is also there. The title of the DVD can be further edited by changing its font, color, size, and other parameters.
Edit DVD files with the built-in editor:
The built-in editor of the software supported editing of the files before burning. So you can personalize the videos and add special effects to create impressive discs.
Note: Blu-ray burning of the videos is supported only by the Windows version of the software
So no more grilling through difficult DVD burning process when Wondershare UniConverter is there to look after your needs.VR
Overview of the major features of the Wondershare UniConverter software
More than 1000 formats supported for file conversion in high quality
The built-in editor allows customization with features like trimming, cropping, rotating, adding subtitles, adding watermark, and others
Videos to DVD, Blu-ray, ISO, and DVD folder burning supported
Free DVD templates with several themes supported
Video download from more than 10,000 sites supported
Video to MP3 download supported in a single click
Option to download an entire playlist at one go
Video recording from streaming sites supported
Video compression for easy sharing and storage
Option to fix video metadata
Create GIF images from video and images
Video to VR conversion
Option to convert DVD to popular video formats
Allows burning music files to a CD
Other major features of the software:
Wondershare, as we have discussed above, works as a great DVD burning tool and in addition to it, several other functions are also supported by the software. Some of the major ones that are needed quite often are enlisted below.
Batch video conversion in high quality
For easy playback, editing, and other purposes, the software allows converting your video files in a hassle-free manner. More than 1000 formats including video, image, and audio are supported by the software for conversion in lossless quality. The batch processing feature allows converting multiple files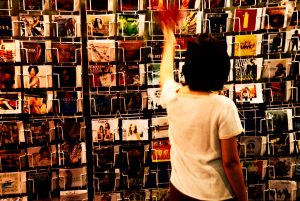 at a time to save time as well as efforts. You can also convert your files to devices like smartphones, gaming consoles, and others.
Download and record videos
Wondershare UniConverter is a great tool for offline playback of videos from popular streaming sites as the software support video download from more than 10,000 sites including YouTube, Dailymotion, Vimeo, Udemy, and many others. The download process is simple where you just need to copy and paste the URL to the software interface. The files can be downloaded in an array of video formats. Option to extract MP3 from the video file is also supported. You can even download an entire playlist from the streaming sites. For the sites that are not supported by the software for video download, the option for recording is available. Additionally, you can also record desktop activities like Skype calls and others.
Video transfer
The local, converted, downloaded, recorded, edited and other videos on the software can be transferred to an array of devices like Apple, Android, USB flash drive, and external hard drives in a simple manner. You will not have to worry about the unsupported formats as the software automatically converts them to a compatible format during the video transfer process.
Several other optimized tools are also supported by the software to take care of all your video-related needs. These include video compression, GIF making, fixing metadata, VR conversion, image conversion, CD burning, and DVD conversion.
How to download Wondershare UniConverter and the price of the software.
The link to download the Wondershare software is: https://videoconverter.wondershare.com
The software comes with a free trial version that has limitations like 1/3rd size of the original file support, video download restricted to 5 files, 5 minutes of video recording, and others. So if you find the features of the software suitable for your project and work you can go for the premium paid version that comes with free technical support and upgrades.
The price and the paid packages for the Windows and the Mac version can be checked out from the below-given links.
Windows Version: https://videoconverter.wondershare.com/buy/video-converter-ultimate.html
Mac Version: https://videoconverter.wondershare.com/buy/mac-video-converter-ultimate.html
Author Profile
Guest Blogger & Outreach Expert - Interested in Writing Blogs, Articles in Business Niche | News Journalist By Profession in the United Kingdom